14 / 03 / 2020
5 Design Trends in Sarasota for 2020
By Kara Bonavia /
As we're almost a quarter of the way through 2020, I figured it was time to discuss design trends that are cropping up in Sarasota and surrounding areas. I sat down with Fabiola, one of the lead Interior Designers at Anne Folsom Smith Interior Design (AFSID), to discuss trends in AFSID's most recent projects. 
1. "I'm blue da ba dee da ba daa…"
Did I get that song stuck in your head? It's been playing on a loop in my head since I started writing this post. 
It's no surprise that blue is at the top of our trend list. It's a national trend – Pantone and Sherwin Williams both listed blue as their color of the year – but it's also trending in Sarasota. Fabiola mentioned that blue has been working its way into AFSID plans and design boards for the last ten years. When I asked where's a great place to incorporate blue (thinking about my future kitchen remodel that includes blue cabinets), she said not anywhere that's a focal point. WHOOPS! So, be careful where you use it in the kitchen, bathroom, or on any large pieces of furniture. UNLESS, you're planning on remodeling these rooms or items in five years or so when you're utterly sick of seeing blue. I did discuss the blue cabinets with my husband after speaking with Fabiola. We're keeping the island blue for now, but as I said, it's a future remodel, so nothing is final.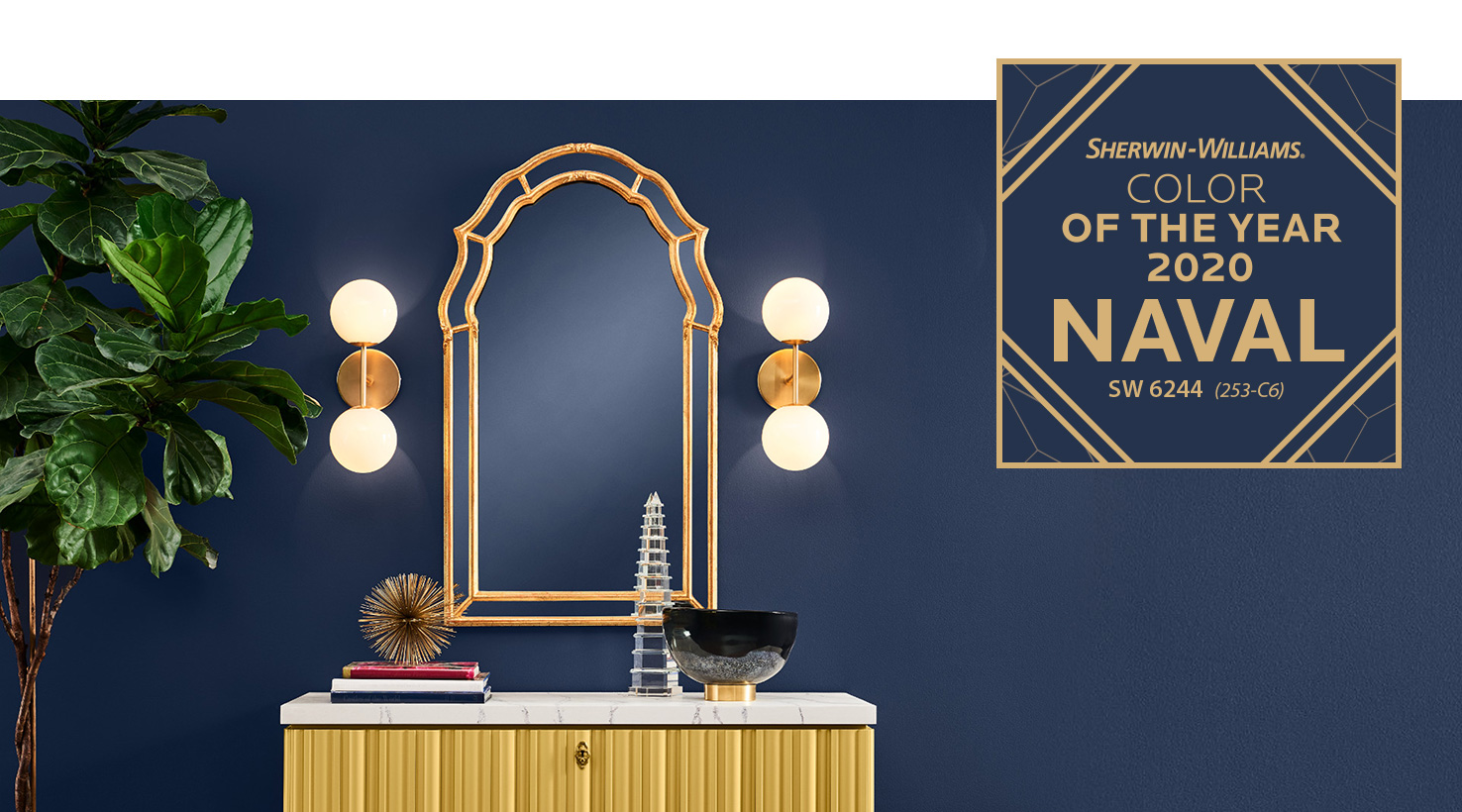 2. Going Green!
Not the color, but the ACT of going green. Fabiola said that AFSID has been going green in a variety of ways since the '90s. When she and I discussed "going green," I was only thinking about environmental considerations in regards to materials. Fabiola was quick to mention not only materials but also going green inside the home with indoor pollution.  "Over the years, we've had more clients that are sensitive to wireless and Bluetooth, so designs need to consider technology from the beginning." I had never even considered that Wifi and Bluetooth could make a person sick, but I did some reading and discovered it was a real concern. Remember, if you want your remodel to be environmentally friendly, communicate this to your designer and contractor in the first meeting. They will explain ways to help make your project green from choosing the right materials to the construction site and everything in between. Also, if you have specific parameters, i.e., no wireless or all the latest tech, let the designer know early.
3. Dramatic Powder Rooms
Love drama, but don't want it in your relationships? Fear not! Just add a touch of drama to your powder room. Designers at AFSID love to bring that "little bit of extra" into powder rooms for a couple of reasons. First, it's a small space that makes it easy to contain all that drama without it flowing into the rest of the home. Second, dramatic wallpaper and deluxe finishings usually run on the expensive side of the gamut. Small rooms mean you don't have to buy hundreds upon hundreds of feet for that imported wallpaper. Our designers love using texture painted walls, imported wallpaper, and upgraded finishes in powder baths.
4. Custom Touches and Finishings
Have you ever had this happen? You finish painting a room, pull the tape off, remove the floor covering, and you're in love with the color. Then, you start putting the switchplates and outlet covers, placing the furniture just so…and something seems off? It's not the color. Is it the furnishings? No, that all seems to match. What is it then? It's probably your plates and coverings that continue to throw off your plan! Now you're off to the store to get new plates and covers that you hope will look alright. Lately, AFSID has been working with artists to customize finishes on things like switchplates, outlet covers, etc. It's important to let your designer know that you want these finishing touches for a seamless design in the beginning, so they can find the right technique for achieving this look. If you're doing it yourself, make sure to order extra supplies like wallpaper, tile, plaster, etc. and practice, practice, practice!
I took the below images at a current remodel that show the custom switchplates.
5. Easy Living
Clients at AFSID have been asking for designs that incorporate comfortable living. Think streamlined pieces, cleaner looks, and super casual, high-performance upholstery. Get rid of the clutter! We're talking family-friendly (grandkids and pets, oh my!) furniture that doesn't snag, scratch, impale, or trip. Clients want soft pieces (sans hard edges) and fabric that is safe to wash or spot clean. Your home should be your haven where you can create and share in memories, not be a museum that your loved ones are afraid to touch or enjoy.